With regard to the operation of sports bars – gaming halls, the current ban on the organisation of gambling has NOT been cancelled.
12.05.2020.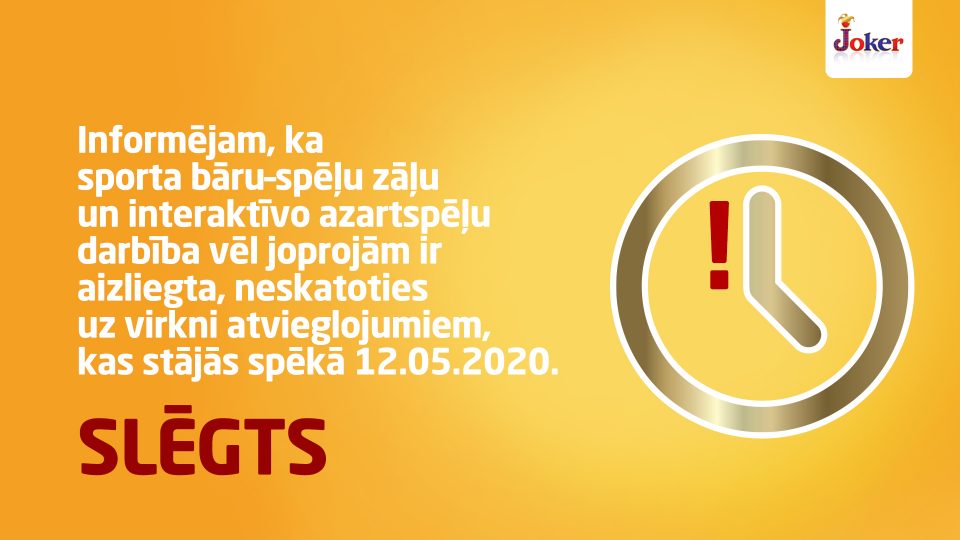 Please be informed that the operation of sports bars – gaming halls and interactive gambling is still prohibited, despite a number of exemptions that entered into force on 12.05.2020.
This is set forth by Section 8 of the Law "On Measures for the Prevention and Suppression of Threat to the State and Its Consequences Due to the Spread of COVID-19" adopted on 20.03.2020, which provides that "During the emergency situation related to the spread of COVID-19 it is prohibited to organise gambling and lotteries, except for interactive gambling, numerical lotteries, and instant lotteries", and Section 9: "For the duration of operation of this Law the Lotteries and Gambling Supervisory Inspection shall suspend all the licences to operate gambling both in physical locations where gambling is organised (licence of a casino, licence of a gambling hall, licence of a bingo hall) and in the interactive environment and (or) using the intermediation of electronic communications services."
Any amendments to this Law can only be adopted by the Saeima.
We draw your attention to the fact that almost all bans intended for the restriction of Covid-19 are included in the 12.03.2020 Cabinet Order No. 103 "Regarding Declaration of the Emergency Situation". Any amendments to the terms and conditions of this Order are decided upon by the Cabinet of Ministers.