On April 1: MASKS AND PRICES ARE FALLING!
31.03.2022.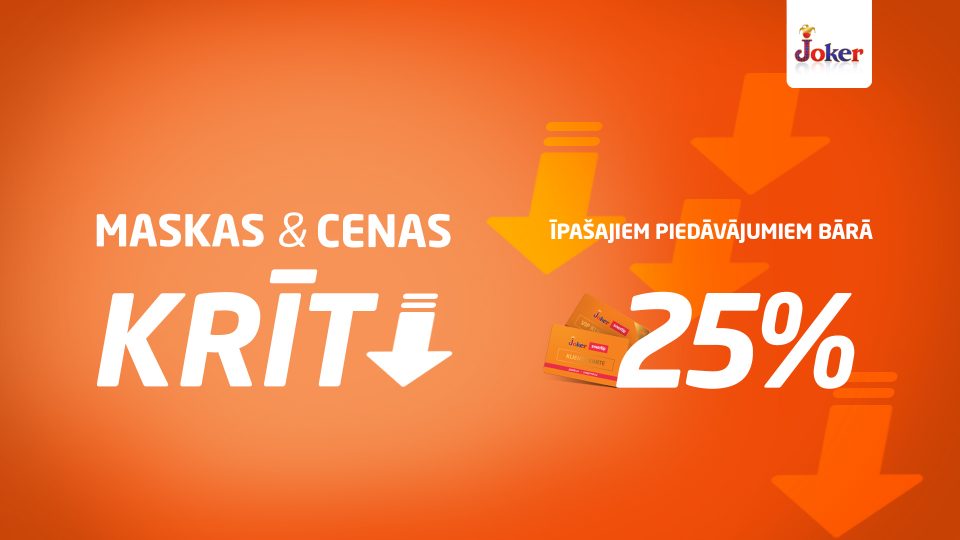 From April 1, we will be waiting for you in our sports bars – gaming halls with zero COVID-19 restrictions,
no need to present a vaccine certificate and open full hours at almost all of our gaming halls in Latvia!
Prices are falling in the bar too!
Please ask the barman of the gaming hall about special offers for Joker / Joker VIP card holders.
Working hours: 00.00-24.00
Aizkraukle, Bērzu 10a
Alūksne, Pils 27a
Balvi, Brīvības 47a
Bauska, Salātu 29
Cēsis, Pļavas 5
Daugavpils, 18. novembra 186a
Daugavpils, Jātnieku 79a
Daugavpils, Ventspils 27
Dobele, Uzvaras 3
Gulbene, Līkā 1a
Jēkabpils, A. Pormaļa 29
Jelgava, Rīgas 57a
Jelgava, Zemgales pr. 10
Liepāja, O. Kalpaka 66
Liepāja, Pīlādžu 33-1N
Limbaži, Jaunā 20  (on Fridays, Saturdays)
Līvāni, Rīgas 57b
Ludza, Latgales 91
Madona, Saules 14
Ogre, Skolas 6
Olaine, Zemgales 37a
Preiļi, Tirgus lauk. 3a
Rēzekne, Brīvības 3/1
Rēzekne, Upes 34b
Rīga, A. Deglava 100
Rīga, A. Deglava 160a
Rīga, Juglas 45
Rīga, Jūrmalas g. 85
Rīga, Kastrānes 3a
Rīga, Kurzemes pr. 21
Rīga, Prūšu 20
Rīga, Rītupes 2
Rīga, Tilta 8
Rīga, Višķu 14
Saldus, Lielā 16
Smiltene, Baznīcas lauk. 16
Talsi, Lielgabalu 6
Tukums, Pasta 9
Valka, Semināra 8
Valmiera, Cēsu 6
Valmiera, Rīgas 36
Ventspils, Kuldīgas 17
Ventspils, Lidotāju 26